.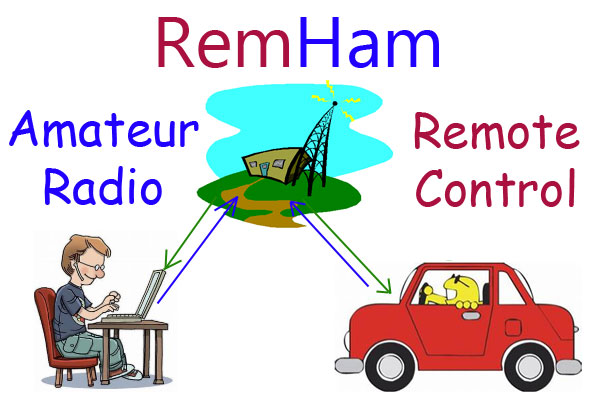 ---
RemHam - Software for Controlling your Amateur Radio Station from Anyplace
Control your Amateur station from another location, your car, or anyplace you have a Windows computer and an Internet connection.
Description: RemHam is a Client-Server software application that can facilitate the remote control of amateur radio stations.
RemHam features very efficient, bi-directional audio transport, along with transmitter audio monitoring and transmit/receive control.
Transmit/Receive and hardware control is accomplished via a standard COM port at the server end, and at the client end, a COM port and/or the computer keyboard or mouse.
RemHam is designed to help the operator operate under marginal network conditions, including conditions that are typical when operating remote control mobile, where the network bandwidth can be low, and packet loss is a reality. RemHam will alert the operator when in "transmit" mode, if the server detects missed packets coming from the client. The alerts are in the form of an audio beep. The operator can temporarily pause speaking until the network conditions improve, or go to "receive" mode. The idea is that the operator will not continue going on and on, unaware that very little is getting through due to poor network conditions.
RemHam has timers that will put the station into "receive" mode if network conditions are poor enough that there is considerable packet loss, or if the remote operator has been transmitting continuously for more than 5 minutes.
---
Network Bandwidth Requirements
RemHam uses network bandwidth very efficiently. RemHam uses UDP (ports 7802 and 7803) for network communications. UDP is very lightweight, and is excellent for low latency, real time communications where potential packet loss is not as important as low latency and low network delays.

In 16 bit audio mode (the default), RemHam requires approximately 194kbps (killo bits per second) in the "sending" direction. Meaning, if the Client is "receiving" (server is sending, client is receiving data from the server), the network utilization at the client side will be 194kbps download, and approximately 100 bits per second upload speed.

Conversely, when the client is "sending", the client upload speed will be approximately 210kbps (server is downloading at the same rate), and the client download rate will be approximately 800 bits per second.

In Data Compression mode, the bandwidth requirements drop to approximately 22kbps from "sender" to "receiver".
Audio Sample Rate
The audio sample rate is currently fixed at 12k samples per second. The rate will be user selectable in future versions of RemHam. Note: Increasing the sample rate will directly affect the network bandwidth used.
---
RemHam Software Distribution and Updates
Latest Version: V1.4.12
Software for Windows XP, Windows 7, Windows 8 or Windows 10
Download Windows Installer (V1.4.12) Version 1.4.12
Feature and Bugfix Release:
1) Added a feature where, if multiple clients are running, all clients will be muted if any client is transmitting.
2) Made minor changes internally, within the application.
---
Previous Versions:
Download Windows Installer (V1.4.3) Version 1.4.3
Bugfix Release:
1) Corrected a problem where, if an audio device went off-line (such as a bluetooth device disconnection), RemHam would sometimes hang.
2) Made a couple of other changes internally, within the application.
.